Lina (リィナ, Ryina) is the twenty-second chapter of the Trigun manga. It is also the second chapter of Trigun Maximum.
The cover features Lina laying face down on her bed.
The chapter begins 2 years ago, showing Lina, a little girl who lives with her Grandma Shale. One day while picking up groceries she notices Vash on her way home, sitting in an alley with a cold expression on his face. Due to Lina's kind hearted nature she asks him if he needs a place to stay, and Vash goes with her. Vash then changes his name to Ericks and lives a peaceful life for a couple years.
Now in the current time, Wolfwood tells Vash it's time to come out of hiding. His brother, Knives, is turning into a dangerous monster who serves as a potential threat to Vash's new family and friends. Vash agrees and decides to head out of town. This decision greatly upsets Lina, as loosing him would be like loosing a real family member to her. She cries in her room for a while, sad at the fact that he has to go, but understanding of why.
Just then, the grotesque minion from the last chapter with the cannon arm reappears, accidentally bumping into Vash. The villain tries again at revenge challenging Vash to a fight. Vash makes short work of the man, after kicking one of the cannons the man fired out of his arm to avoid it hitting Lina's house. Vash then tells the man to protect Lina's town while he's away, and tells him if he fails to do so he'll track him down to the deepest pit in hell.
After that commotion is over, Vash gets ready to head out with Wolfwood. Lina gives him a haircut before he goes, and the two reminisce on all the good times they've had. When Lina finishes his haircut, it looks exactly the way it did when she had first found him two years ago. Failing to hold back her sadness, she pulls the haircut apron over her head and starts crying while Vash can't see her. Vash thanks her for her braveness, hugs her and heads off on his adventure with Wolfwood.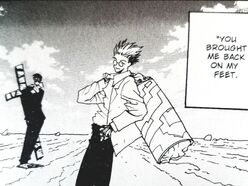 Characters in Order of Appearance
Edit